Want to know my favorite letter?
It's "T."
Why? I think it's the best answer to the question of how to become a travel agent.
Because it's the secret to mastering the whole " become an expert" thing without wanting to pull your hair out.
You may have heard of the "T" strategy before.
It refers to the "shape" your expertise should take.
Ideally, your knowledge of your industry should be "T"-shaped — you should have a broad, general knowledge about your industry as a whole (that's the horizontal bar of the "T"), but then you go deep in one specific subject area (the vertical bar of the "T"). That's where your expertise lies.
And because I can never pass up an opportunity to show off my sick design skills — 😉 — here's a visual representation of what I'm talking about: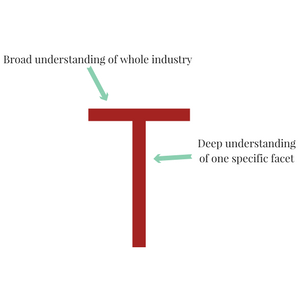 Why Travel Agents Should Use the "T" Shape Formula
The "T" shape formula works because — and you've heard this before — experts make more money. Going deep in one area helps you stand out in a crowded industry, like travel.
At the same time, if you only knew about your one, narrow area of expertise, then you probably wouldn't be able to serve your clients very well.
What might the T shape look like for someone exploring how to become a travel agent?
Well, let's say you want to be a family travel specialist. You learn all the best family-friendly resorts and tour companies like the back of your hand — that's your specialty. But you also lear enough about the travel industry as a whole to know how to book air and transfers and counsel your clients on passport rules.
Or, let's say you want to specialize in a destination — the U.K., for example. You learn how to build incredible FITs for clients who want to tour England and Ireland's castles, moors, cities, and other cultural standouts. But you also learn enough to know how to book a couple nights stay in Paris if your clients want a pit-stop in the City of Lights before they head home.
Going the T-shape route with your travel industry knowledge allows you to build an expertise while still being able to handle your clients' routine needs.
Now if you're a U.K. specialist, and someone came to you looking for a vacay only in Paris, you'd probably pass that lead on to another specialist. It falls too far outside your "T"-shaped knowledge.
You don't have to know everything. You just have to know one thing really well — and know enough about the rest to know where to go to find the answers you need.
How to Become a Travel Agent: The Blogging Challenge
If you've got it, flaunt it — an expertise, that is. One of the best ways to showcase your newfound travel industry knowledge is through a blog and e-newsletter sent to your email list of clients and prospects. Stuck on coming up with ideas to write about? Join my 10-Day Blog Brainstorming Challenge to come up with a whole year's worth of travel blog topics. (And psst — it's free!).