Ready to uplevel your travel business, refine your brand, and get more clients?


When prospects ask for your website address, do you send them to your Facebook page?
Are the consultation requests you get through your current website from tire kickers, price shoppers, or folks "looking for a cheap trip to the Bahamas" … but your specialty is luxury vacations to Europe?
Has putting together your website been on your to-do list for ages — but you just don't have the time?
Or do you tell yourself you're too busy to focus on your website … but really you're just too scared to put pen to virtual paper, afraid whatever you write is going to sound all wrong?
For travel professionals, your website is your virtual storefront. Without it, you're invisible.
But so many travel professionals relegate a well-written website to a "nice-to-have," rather than a "must." And that's leaving so many clients on the table.
Without a website, people can't find you. And without a website full of optimized, authentic copy, people will spend just seconds on a page before "x"-ing out.
Or worse, you're left getting messages and consultation requests from all the wrong kinds of people. The kinds of people who make you question why you decided to become a travel professional in the first place!
Want fewer dead ends, and more dream clients?
You need powerful travel website copy that connects with prospects and converts them into your biggest fans.
Get clients in the "door" — and keep them there — with smart, strategic copy that tells your story and nets you endless consultation requests. And not just from anyone — but from your dream clients.
Sound good? *thunderous applause*
That's why I put together the Take Flight Website Copy Package. With this package, we'll work together to co-create website copy that captures your brilliance, makes clients salivate over your services, and sounds true to you.
---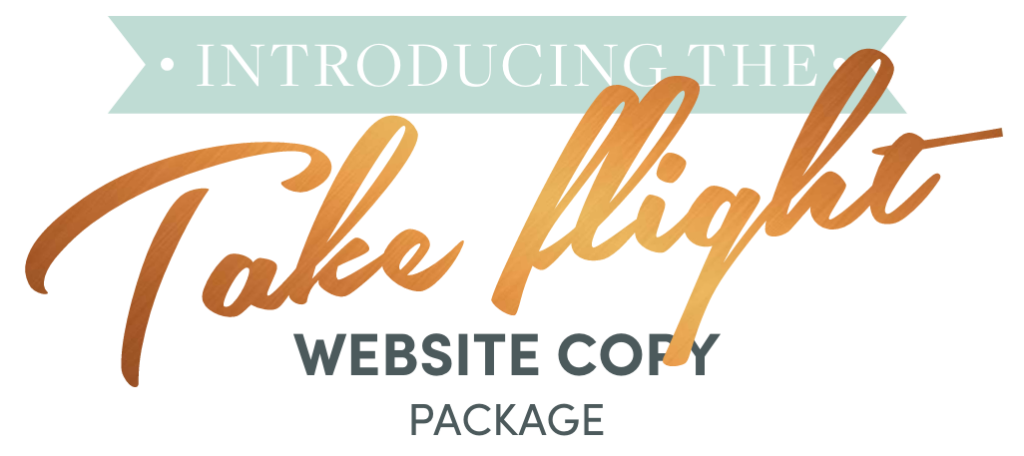 This package is for you if:
You know you need a website for your travel business. You just don't know where to start.
You're embarrassed to send people to your current website. It doesn't speak to your expertise. It just doesn't feel like you.
You contacted a web designer or purchased a template ages ago, but the design hasn't moved forward because you haven't handed over your copy yet (I know this is a biggie!).
Whether you're a veteran travel advisor or a newbie to the biz, you're super passionate about your specialty and know who your target market is. Now you're ready to reach them.
You based your current copy on what you saw other travel agents doing … or you even copy and pasted info from supplier websites.
You think your website sounds like every other travel website out there.
---
For years, I felt my travel website was just average — and I really don't do average. So, I read the content over and over and changed it over and over and over and still felt like it was …  just 'average'!

I hired several writers and each one was one disappointment after another. At the time, I didn't know there was a difference between a general content writer and a copywriter.

Enter Emily.

They say nothing is by accident, and I believe that. I was browsing the Internet looking for another "content writer" and was introduced to Emily without even knowing what she did.

She grabbed my attention at 'hello'… and although I wasn't financially prepared for the investment, I was just too drawn to her obvious knowledge and skills to say 'no.'

Her first draft of my website copy blew me away — I mean, I sat there staring at the pages with my jaws hitting the floor … this stuff was amazing.  It made me want to work with me.

I feel very proud every time I visit my website — the message finally matches who I am and what I'm about. Thanks to Emily, when I visit my website now, I smile and feel completely confident that I can and will attract my ideal audience."

— Judith White, White Sand Travel
---
So what exactly is going to cure your website woes? With three package tiers to choose from, there's a solution to fit your needs:
Tier 1: The Full-Bodied Foundation
Perfect for: Agents who want on-point messaging and copy that focuses on the most essential website pages needed to convert leads.
What's included:
A 60-minute strategy call

to dig deep into your story and strategize the most magnetic way to present it on the page

Competitive research

(so you can outshine — and outsell — your competition)

"Voice of Customer" research

to ensure your copy resonates with your ideal prospects

Copy for the four core pages of your website:

Home Page Copy

that captures your brand and pulls in prospects (up to 500 words)

About Page Copy

that tells your story convincingly, and with heart (up to 500 words)

Services/Work With Us

Page Copy that clinches the deal and delivers consultation requests (up to 500 words)

Copy for an additional page that outlines your travel specialties,

so your prospects know exactly what to come to you for (up to 500 words)

Copy for an FAQ section

that overcomes your prospects biggest objections and hesitations (up to 300 words)

Short-form "Contact Us" page copy

that gets prospects picking up the phone

Conversion-focused page

formatting suggestions

2 rounds

of revisions
Price: $2095
Tier 2: The Marketing Aficionado
Most Popular
Perfect for: Travel professionals ready to uplevel their businesses and reach a whole new level of success—think a steady stream of bookings from your fav kind of clients—with magnetic, heart-centered messaging that lets your stellar services and specialties shine. 
(Psst: Working with GirlBoss Designer on your website? This package gets you exactly what you need).
Includes everything from Tier 1, plus:
Copy for an opt-in offer

that entices your prospects to join your email list, so you can start building powerful "know, like, and trust" (up to 1,200 words)

Conversion-optimized copy

for your opt-in offer landing page

Opt-in offer email autoresponder message copy to deliver your awesome opt-in with pizzazz
Welcome email copy to give new e-newsletter subscribers a hearty hello

2 rounds of revisions,

as needed

Bonus long and short form business bios

to use on social media
Price: $2695
Tier 3: The Travel Industry Connoisseur
Perfect for: Experienced travel professionals who want a more comprehensive website that reflects their multiple travel specialties, or dives deep into their single expertise. Also good for travel agencies that want to highlight IC specialties.
Includes everything from Tier 1 + Tier 2, plus:
Copy for 1 additional web page of your choice,

such as Meet the Team, a destination-specific page, page for group travel, honeymoons & destination wedding planning page, etc.

Copy for 3 blog posts

that showcase your expertise and unique point of view, so you can position yourself as a go-to authority in your niche (up to 500 words each)

Up to 3 rounds of copy edits,

within the scope of the direction discussed on our strategy call
Price: $3395
Emily is great at what she does. I was stuck for months on the website copy and finally decided I needed help. I am so glad I did. Now on to getting the website completed!"

— Stephenie Updegraff, Classic Island Travel
Ready for your website to finally take flight? Let's do this thing!
Just sign up for a free 20-minute consult call with me to chat about your website goals, get all of your questions answered, and figure out which package will rocket your travel business to success. Pssst — pricing plans are available! I'll share them with you on our consult call.
---
You can get your personality-packed, ready-to-put-on-the-page web copy in as little as 3-4 weeks from start to finish, if you stick to the schedule.
Your itinerary (a.k.a. How this process works):
You'll sign up for a free 20-minute consultation (just click the button below!) to make sure this is the right package for you, and I'll give you a little more info on the process and answer any questions. This is a no-obligation call; I promise not to strong-arm you into anything!
After taking care of the deposit and contract, you'll get your brand discovery questionnaire and/or we'll schedule our 60-minute copy strategy session where we'll talk prospects, tone, message, and your story so I can develop some killer, one-of-a-kind copy for you.
Armed with coffee and copious notes, I'll spend a 2-ish weeks drafting your website copy, researching competitors and customers so I truly capture your voice.
I'll deliver the first draft and we'll work through any edits (this typically doesn't take more than a week or two).
After I polish up your draft with one more proofread, you'll get the final version of your copy in Microsoft Word format, ready to pass off to your web designer, or input yourself.
You'll open a bottle of wine to celebrate (optional, but highly encouraged!).
Imagine: having a website that makes you feel proud, and that you can't wait to market the heck out of! Let's get you there.