Today, I'm dusting off my crystal ball and asking it a very important question: What's the next big thing in travel agent marketing?
Well, my crystal ball was kind enough to give me not one, but three answers to that question.
So, here are my 3 biggest predictions around this year's content marketing trends for travel pros (well, one's less of a prediction and more of "I hope this changes this year!").
Check 'em out below—and let me know if your crystal ball shows things playing out differently!
1. Connecting via video:
Video has been "trending" for a while now. In fact, I wouldn't even classify video as a content marketing "trend" at this point—it's here to stay. If you don't believe me, there's a bunch of studies and stats to back me up, including this one: according to iMPACT, Cisco has predicted that by 2021 more than 80% of online traffic will be video. Woah. Don't you want a piece of that video pie?
So, let this be the year you finally bust through your on-camera fears and start with video. Ease in by trying one of these tactics:
Do a tour of your hotel room or cruise cabin whenever you go on a FAM or vacay (you don't even have to show your face!)
Interview GMs or other key personnel at the properties you're staying at
Recap the blog posts you write on camera—it's like you've already created a script!
Do a simple Q&A on FB Live (ask for questions from your followers ahead of time in case questions don't come in while you're live)
Get comfortable with video by conducting your client calls over Skype or Zoom video instead of phone—this will help you create a stronger emotional connection, too!
Investing in a few tools can really help you feel more comfortable using video, too. Consider a selfie stick that will help stabilize your videos if you record while walking around (great for your travel videos) and a webcam that will produce a crisper, brighter image when you record from your office—I use this one.
2. Getting authentic on Instagram:
Yes, "authenticity" as a buzzword was beaten to death years ago—but I'm resurrecting it to have a convo about what's going down on Instagram.
I see a lot of travel agents posting beautiful stock travel photos or pics from suppliers (and ONLY stock or supplier photos). They're pretty, but I wonder … are these kinds of photos really helping you create an authentic, emotional connection with your ideal client?
Because here's the thing: you are not a travel brochure.
Your job isn't just to inspire your followers. It's to inform, educate, entertain, and even warn. It's to showcase your personality and show off your "x factor"—why you're brilliant at what you do and why you're the BEST choice for a particular kind of client.
That's hard to accomplish when you're only posting stock photos that any agent can use.
So, in addition to pretty stock photos, I'd love to see agents sharing more of:
Their own travel photos—and their travel stories in the captions, about the good, bad, and ugly experienced on a trip. If you haven't taken a trip recently, reach back into your archives! You don't have to save old photos for #throwbackthursday.
Their client photos. You have an almost endless resource of non-stock-photo options in your clients! Plus, most clients will be oh-so flattered to have you feature a photo or two. You can even have a client do an Instagram "takeover" and share their trip photos straight to your Instagram account during their travels.
"Behind the scenes" office photos. Sure, they're not super glamorous, but they remind your followers that there's a real, live person doing the travel planning—which gives you a big leg up on the online booking engine competition. I recently saw an agent post a photo of a bunch of physical travel documents about to be mailed out to clients, and it was a great reminder of how agents go above and beyond for their clients.
Psst … speaking of Instagram, you can follow Bon Vivant Copy right here. Being more authentic on Insta is one of my goals this year, too!
3. Pulling in prospects with experiential marketing: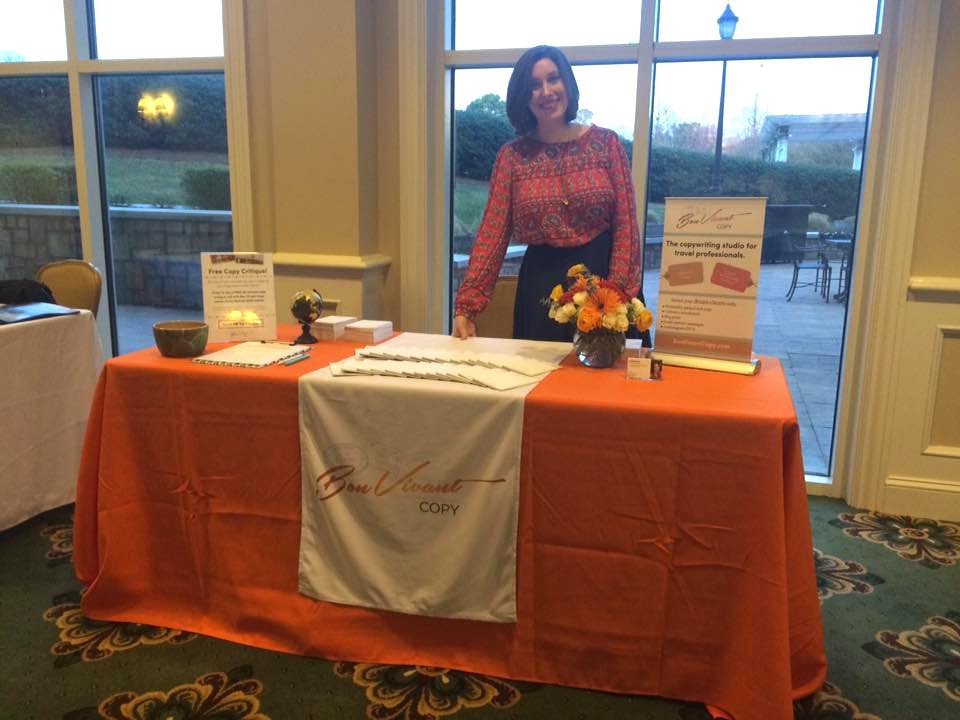 This is something I actually think many travel agents have excelled at for a while, and the rest of the marketing "experts" are just catching on.
Experiential marketing simply refers to marketing tactics that are highly immersive, engaging, and/or interactive for your customers. So if you've ever hosted a "travel night" or participated in a trade show, then I'd argue you've already dabbled in experiential marketing.
Experiential marketing works because something becomes much more memorable when you're able to touch it and feel it.
Think back to your grade school years—you're probably much more likely to remember the lesson learned from your science fair project than the concepts you memorized with flash cards. That's because your science fair project was experiential. So, think about ways you can get out from behind your keyboard and interact with your prospects this year.
Then, think about how you can turn your experiential marketing efforts into reusable content marketing material. Maybe you film a "behind the scenes" video at your trade show or write a blog post that answers the most frequently asked questions you got at your travel night. Make your marketing efforts really work HARD for your travel business!
What content marketing trends will you try this year?
Pressing play on video? Getting real on Instagram? Engaging with your ideal clients in real life?
Let me know in the comments which content marketing trends you'll be trying this year—or what's worked for you in the past!